P&G fined $1m in China over toothpaste advertisement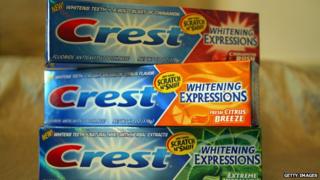 Consumer goods giant Procter & Gamble has been fined close to $1m (£662,876) in China for what Shanghai regulators said was false advertising of its Crest toothpaste brand.
They said P&G overstated the effects of its toothpaste in a TV ad featuring a popular Taiwanese talk show host.
Images in the ad were said to be digitally enhanced to show whiter teeth.
Chinese media are reporting the fine as the biggest of its kind on record.
Toothpaste market
The advertisement was pulled off air in the middle of 2014, Crest said on its official Chinese microblog on Tuesday.
It added that all of its products went through complete testing in China and complied with the country's law before entering the market.
Crest is competing in the fast growing toothpaste market in the world's second-largest economy.
Authorities in China have been cracking down on foreign brands that they feel have mislead consumers.
Apologies with regards to consumer services have come from McDonald's, Apple and French retailer Carrefour in the past.