Can the new owners re-invent BHS?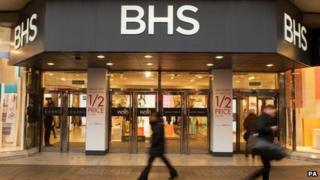 The question for the new owners of BHS - and they are a pretty obscure bunch for the moment - is whether they can breathe new life into what has become a pretty dowdy constituent of the high street.
Unlike Top Shop, Top Man and Miss Selfridge, BHS has lacked the full beam of Sir Philip Green's attention.
It is still doing well among its older, more traditional clientele. But, as a loss making business it needs to find new customers to replace those who now feel more comfortable in John Lewis, Debenhams or TK Maxx.
Committed
Speaking to those close to Retail Acquisitions Ltd - the shell company put together to buy BHS for the princely sum of £1 - they appear committed to the present 171 UK stores and the 88 international franchises, which are everywhere from Malaysia to the UAE to Russia.
And the fact that Sir Philip has taken the debt off BHS's books will also help the chain's balance sheet.
In Britain, the shops have pretty good high street positions and, with some refurbishment, could pick up new shoppers.
Risks
I am told the new owners want to develop food sales and expand the range of concessions (those are the "shops within shops" like Miss Selfridge operating inside BHS), which are at the moment dominated by Arcadia's brands.
But of course, as with any takeover, the new owners will be undertaking a full review of the business, with the associated risks of closures and job losses.
One person who won't be running BHS is Harriet Green, the former chief executive of Thomas Cook.
Yes, she was approached by the new owners. And yes, she said no thanks.