France fines yogurt cartel 193m euros for price-fixing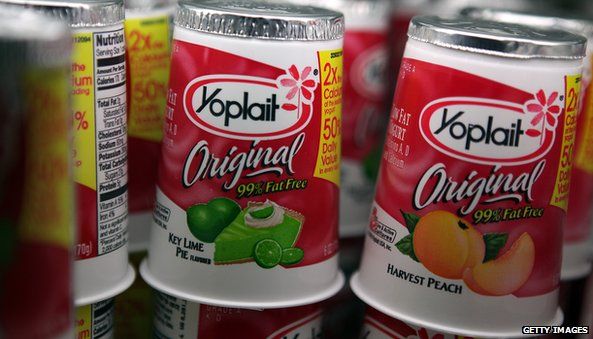 French authorities have fined the country's top yogurt makers €193m (£136m; $204m) for engaging in a price-fixing cartel for six years.
Eleven firms - representing 90% of France's yogurt makers - were involved in setting the price of supermarket own-brand yoghurt and dairy products.
The collusion was first reported by Yoplait, which received no fines in return for exposing the cartel.
Some firms are appealing against the fines.
In a statement, Lactalis Nestle - which received the largest penalty of €56.1m - said it obeyed all laws and that the fines "overestimate in an obvious way the gravity of what happened, and their impact on the economy".
Laiterie de Saint Malo, which was fined €300,000, said it would appeal against the charges.
The other companies are Senagral, Novandie, Les Maitres Laitiers du Cotentin, Alsace Lait, Laita, Yeo Frais and Laiterie H Triballat.
Senagral, which incurred a penalty of €101.3m, had the fine reduced to €46m as it also participated in the whistleblower scheme.
The ruling found that the 11 firms colluded on how and when to drive up prices - and by what amount - for six years, from 2006 to 2012.
The cartel set prices for products including yoghurt, fromage frais, creme fraiche, and dairy desserts.
According to the complaint, yoghurt executives used dedicated secret mobile phones to come together for clandestine meetings at hotels, each time varying the meeting places for the sake of discretion.
The mobiles were not officially assigned to users and their names did not appear on the bills.
In addition to hotels, they also met in a well-established Parisian cafe called Au Chien qui Fume (The Smoking Dog).
On occasion they repaired to the central Parisian apartment of one of the executives "to continue the meetings and smoke a cigarette," according to the complaint.
The cartel was identified under a scheme that reduces or waives fines for whistleblowers.
Supermarkets and hypermarkets are the main market for French dairy products, accounting for 92% of sales of yoghurts, fromage frais or creme fraiche, and worth around €5bn in 2013, the competition authority said.
Danone, the world's largest yoghurt maker, does not sell products under supermarkets' own brands and was not part of the cartel.