JD Wetherspoon aims to triple breakfast and coffee sales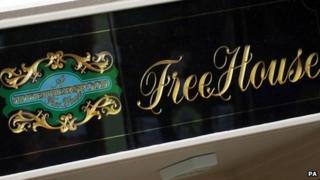 Pub chain JD Wetherspoon says it wants to triple its coffee and breakfast sales over the next 18 months.
The company is cutting the price of coffee and breakfast in a bid to capture a greater share of the daytime dining market.
Wetherspoons is responding to increased competition from supermarkets, which are selling discounted drinks.
The pub chain's pre-tax profits rose 4.1% in the first half of its financial year to £37.5m.
"Our profit was under pressure from areas which included increased competition from supermarkets and increased pay and bonuses for pub staff," said JD Wetherspoon chairman Tim Martin.
Overall sales rose by 9% to £744.4m.
JD Wetherspoon's food sales rose 10.1% in the six months to 25 January.
Wetherspoons sells about 50 million coffees and 24 million breakfasts a year generating about £150m revenue.
To boost that further it plans to cut the price of coffee and breakfast by as much as 20%.
Its morning customers will pay 99p or less for a filter coffee with free refills in around 880 of its pubs.
"It is a growing market and we think it is time to up the ante," said Wetherspoon founder and chairman Tim Martin.
The move prompted a 4.5% drop in the share price to 775p.
"More discounting equals more downgrades," Numis analyst Douglas Jack said.
The pub chain, which employs 80% of its staff on zero-hours (no set hours guarantee) said that it has allocated £15.3m in bonuses and free shares to employees, up from £14m the previous year.
It said that 83% of the bonuses and shares were paid to workers in its pubs.