MiHomeCare staff paid less than minimum wage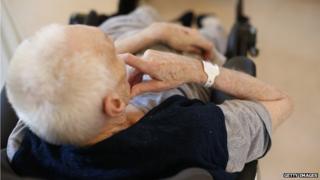 One of the largest care providers in the UK has not been paying its staff the minimum wage, says an internal company document.
MiHomeCare examined the pay of 44 of its workers in Penarth in south Wales.
It found that they are "likely" collectively owed up to £80,000 because they were not paid for time spent travelling between appointments with their clients.
This meant that, in effect, they were not receiving the minimum wage.
MiHomeCare employs 6,000 home care workers in England and Wales who look after 10,000 elderly, disabled and infirm people.
The document came out of an internal company review into pay in September last year.
It was leaked to the investigative organisation Corporate Watch and has been seen by the BBC.
MiHomeCare says Revenue and Customs are examining pay at its Penarth branch.
It says that it pays the national minimum wage or higher and claims the rules around travel time aren't clear, but it is talking to Revenue and Customs to ensure it complies with them. HMRC is not commenting on this case.
'Clipping'
In the document, the company says that pay and allowances ''may be different'' in other branches but says there is no system to check whether they are complying with the minimum wage. They do not have a "common audit or assurance process for NMW compliance'.
The internal review describes a practice called ''clipping'' which means that care appointments are scheduled back to back and there is no travel time scheduled between visits.
As a result, visits are clipped, or cut short. The document says: "the employee is expected to travel within the time allowed for the appointment with actual time spent with the client varying depending upon journey times". They say this practice is ''widespread''.
The company expresses nervousness about the practice of clipping being made public: "The wider commercial and contractual implications of acknowledging clipping shifts also requires consideration''.
It is not clear if Revenue and Customs, which is responsible for investigating compliance with the national minimum wage, will broaden its investigation to any of the company's 56 other branches.
MiHomeCare says the document is an internal preliminary report. The company told the BBC: ''We really value all of our homecare support workers who provide invaluable support to the elderly and vulnerable people that they look after. They work in an increasingly underfunded social care system with local government facing unprecedented funding constraints.''
Last month HMRC, which is responsible for compliance with the National Minimum Wage, announced that it is investigating six of the country's biggest providers of social care for elderly and disabled adults. They have promised to name and shame those companies found to be in breach of minimum wage laws.
MiHomeCare is owned by the outsourcing giant Mitie. Last year Mitie made £49m profit. MiHomeCare made more than £8m.