Sony profits boosted by film studio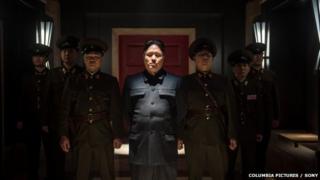 Sony has revised its third-quarter operating profit up 2.2% to 182bn yen (£1bn) thanks to stronger-than-expected results from its US film studio.
But the Japanese firm kept its full-year forecast unchanged.
Last month, Sony reported third quarter operating profit of 178bn yen. But it added it would make an operating loss of 170bn yen in the year to the end of March compared with 40bn yen last year.
Sony hopes to return to an operating profit of 500bn yen by March 2018.
Sony has issued seven profit warnings in two years.
On Tuesday, the company said its earlier estimate was based on incomplete data, which was subsequently collected from its Hollywood film studio.
The film studio was the subject of a North Korean sponsored cyber-attack on its computer system three months ago.
The cyber attack came as Sony Pictures prepared to release its film The Interview, which involves a fictional plot to kill the North Korean leader Kim Jong-un.
Sony said that once official results from the film studio were included, quarterly revenue grew 6.5% compared with a year earlier to 2.567tn yen, instead of the 2.558tn it had originally estimated.
Sony is currently restructuring its business and has said it will spin off its video-and-audio business into a separate company as part of its three-year plan to return to profit.
In February, Sony chief executive Kazuo Hirai said the company must not be afraid to change if it hoped "to grow in a Sony-like way".
He said the Japanese electronics firm would no longer pursue sales growth in areas such as smartphones where it has suffered competition from rivals Apple and Samsung.
Mr Hirai said it would focus on profitable businesses areas instead, including entertainment operations such as TV programming and the PlayStation game business.
The video-and-sound unit will be spun off by October, he added.
Sony has struggled in recent years as it fell behind in fast-growing areas such as smartphones and flat-screen TVs. Sales of blu-ray DVDs have also declined following the growth of online movie streaming services, such as Netflix.