Mortgage lending dipped in January, lenders report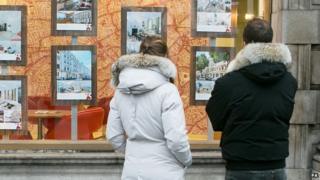 Mortgage lending to home buyers went through an unexpectedly large dip at the start of the year.
The Council of Mortgage Lenders (CML) said just 41,400 home loans were granted in January to borrowers in the UK.
That was 26% fewer than in December and, more importantly, 16% down from January last year.
The number of loans made to first-time buyers was, at 19,000, the lowest monthly figure for 21 months.
The UK property market has been cooling off off since last summer, with prices more or less flat in the past few months.
The previous rapid rise in prices, along with the tighter regulation of mortgage lending, has shut some prospective buyers out of the market.
Completed sales in November, December and January - the most recent months for which data is available - were down on a year ago.
However, this lull is likely to be temporary, as figures from the Bank of England have shown that mortgage approvals for those months - the number of new loans approved but not yet lent - in fact started growing again gently.
That suggests that sales will start to pick up again in the coming months.
Paul Smee, director general of the CML, said: "The traditional beginning-of-year seasonal lull in lending is slightly more prominent in house purchase lending than in previous years, especially in comparison to the particularly strong levels at the start of 2014.
"Affordability constraints remain a factor for would-be borrowers, but we are still projecting lending to pick up over the next few months," he added.