Lufthansa pilots call for new strike on Thursday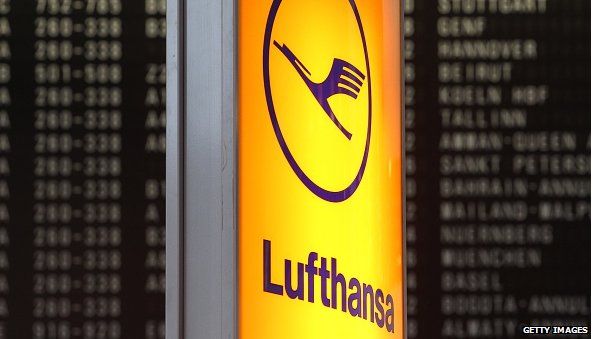 Lufthansa pilots have called for a new, second strike on Thursday, following a planned action on Wednesday, potentially disrupting thousands of passengers.
The Wednesday strike will affect short- and medium-haul flights and Thursday's effort will apply to long haul trips.
Lufthansa has already cancelled 750 flights, affecting 80,000 passengers.
The pilots' union is hoping strikes will put pressure on management during negotiations on retirement benefits.
Lufthansa units Germanwings and Eurowings will not be impacted.
The airline has been plagued by strikes, which last year cost it 232m euros (£165m).
Lufthansa spokesman Thomas Jacknow declined to comment on the likely financial impact of this strike.
"We will look at how many flights we can save" for customers booked with Lufthansa, he added.
The union, Vereinigung Cockpit, is in an ongoing dispute with the airline over its early retirement benefits, as well as plans to expand low-cost operations.
The airline wants to get rid of a programme that allows pilots to retire at age 55 and receive up to 60% of their pay until they reach the statutory retirement age of 65.
The moves are intended as a cost-savings effort, as Lufthansa struggles to compete with low cost competitors and rivals such as Emirates and Turkish Airlines.
Commenting on Wednesday's planned strike, Lufthansa's personnel chief Bettina Volkens called the action "completely disproportionate".