China-owned Nexen cuts 400 jobs in North America and UK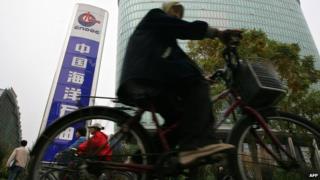 Nexen Energy, a subsidiary of Chinese state-owned energy giant CNOOC, said it will cut 400 jobs in its North American and UK operations.
The Calgary-based firm will reduce its workforce in North America by 340 employees, with the UK losing 60 jobs.
The cuts were being made in response to plunging oil prices, which has resulted in a "industry downturn, it said.
CNOOC bought Nexen in 2013 for over $15bn (£10bn) after US and Canadian government approvals.
Promises made
At that time, China's top offshore oil and gas explorer had promised the Canadian government that it would try to keep Nexen's management and workers, along with investing in the country's oil and gas sectors.
"While regrettable, these organizational changes are necessary to align the company with our reduced capital spending programme," said Nexen chief executive Fang Zhi in a statement.
"We take these decisions seriously, and all impacted employees have been treated fairly and with respect."
Canada's industry ministry said they were reviewing the job cuts to ensure that it complied with CNOOC's commitments made at the company's takeover.
The job cuts are about 13% of Nexen's international workforce of about 3,200.
Meanwhile, global benchmark oil prices have fallen over 50% since June last year.