Bank unanimous on rate decision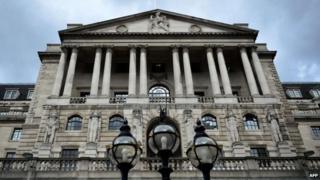 Bank of England policymakers feared that the risk of a strong pound could make low inflation persistent, minutes from their latest meeting show.
Earlier this month, the Bank's Monetary Policy Committee unanimously voted to keep interest rates at 0.5% because of the outlook for weak inflation.
As in February, two members described their decision as "finely balanced".
But there was no repeat of a view that a cut in interest rates in the short term could be possible.
The rise of sterling against the euro, coupled with stronger prospects for wage growth in the UK than in the eurozone, "might continue to put upward pressure on the sterling exchange rate".
This could prolong the period that inflation based on the Consumer Price Index remains below its target rate of 2%, the Monetary Policy Committee (MPC) said, and "exacerbate the risk that lower expectations of inflation might become more persistent".
However, the committee said it expected the Bank rate to rise over the next three years.
The committee also voted to maintain the total stock of quantitative easing at £375bn.
Following the Bank's announcement and fresh UK unemployment data, the pound dropped sharply against the dollar, falling to $1.46790.