Solar eclipse poses energy challenge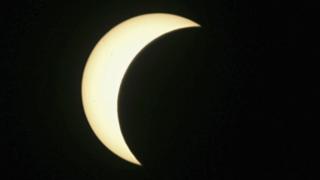 Friday's solar eclipse will present a significant challenge for the UK's electricity network and be an unprecedented test for operators of power networks.
Power demand is expected to fall and then surge.
As the moon obscures much of the sun, the electricity generated by solar panels is expected to drop by up to 75%.
But National Grid believes the overall impact will be "manageable".
Unprecedented test
Much more electricity is generated from solar panels now than than during the last eclipse in 1999.
It is the first time that an eclipse in Europe is expected to have an impact on the operation of electricity grids.
Germany faces the biggest test, with about 39GW (gigawatts) of installed solar capacity.
The UK has 5GW of solar, the equivalent to the power output from about eight to 10 gas fired power stations.
But while the amount of electricity generated from solar will fall during eclipse, National Grid is not expecting any major impact.
"This loss of solar is entirely manageable," said a National Grid spokesperson. "We have a range of tools in place to manage any effects of the eclipse and balance the network."
Friday's eclipse
The eclipse will start at around 08:45 on Friday and is due to last for a couple of hours.
It should be visible in much of the UK.
But with cloudy weather now expected, National Grid has revised down its forecast for the likely impact to energy supplies.
At that time of day, about 1,000MW (megawatts) of power would be generated from solar (1,000MW is equal to 1GW).
That is expected to fall by around 850MW.
Normally, that shortfall would need to be made up by bringing other power plants on to the system.
But based on an analysis of what happened during the previous eclipse in 1999, National Grid expects many people across Britain to stop their normal activities to observe the phenomenon.
That is expected to cause a fall in power demand on the network of about 1,100MW.
After the peak of the eclipse at 09:30, power demand is then expected to surge by 950MW as people resume normal activities.
Europe-wide impact
The impact elsewhere in Europe could be more profound.
Europe's total solar power output could drop by as much as 34GW if it's a clear day, according to the organisation that represents network operators.
That's the equivalent of the output of around 80 gas-fired power stations gradually fading out of the European system as the eclipse happens, then fading back in again.
The European Network Transmission System Operators for Electricity has warned that the risk of an incident such as a power cut can't be completely ruled out.
Half of the total impact is expected in Germany. Other major users of solar power including Italy (19.7GW) and Spain (6.7GW) are expected to face challenges too.
It says the main challenge will be balancing the network in real time without causing blackouts or overloads.
An extraordinary sight
The UK won't see a solar eclipse on this scale until 2026.
How to watch the eclipse safely
Why don't we see an eclipse every month?
UK solar power
Solar power overall provides some 1.5% of the UK's total annual power output.
But Leonie Greene of the Solar Trade Association believes the eclipse should not be a cause for concern.
"At this time of year, in the morning, the impact of the eclipse on solar output will be particularly small," she says.
"The impact of the eclipse on solar will be known by grid managers and it will pose no problem to the power supply.
"Far more challenging is the surge in power demand after the eclipse as everyone goes indoors for a cup of tea."
---
Power surges
1999 Solar eclipse: 3,000 MW
1990 West Germany v England World Cup Semi-final: 2,800 MW
2002 England v Brazil match: 2,340 MW
2013 Andy Murray wins Wimbledon final: 1,610 MW
2014 Great British Bake Off Opening Episode: 650 MW
2015 EastEnders murder revelation first episode: 500 MW
---