Yoox and Net-a-Porter in merger talks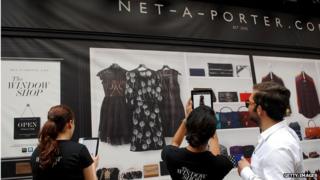 Italian online fashion retailer Yoox has said it is in merger talks with London-based rival Net-a-Porter.
Yoox and Richemont, which owns Net-a-Porter, confirmed they were discussing a "potential business combination".
A merger would create a €2.5bn ($2.7bn; £1.8bn) industry leader combining Yoox's discounted out-of-season offers with Net-a-Porter's in-season lines.
Yoox and Net-a-Porter face fierce competition from online rivals and upmarket department stores.
Both companies were launched in 2000 at the height of the dotcom boom, Yoox by Federico Marchetti, a former investment banker, and Net-a-Porter by Natalie Massenet.
There were reports that the two companies had been in merger talks about a year ago.
Revived talks
In 2010, Richemont, which also owns jeweller Cartier and watchmakers Piaget and IWC, bought Net-a-Porter from Ms Massenet.
The London-based site, arranged in the style of a fashion magazine, is estimated to have annual sales of €700m and to be worth between €1.3bn and €1.5bn.
The site says it is viewed by some 6 million users a month.
Richemont does not break down results from Net-a-Porter, but it is thought that distributing to 170 countries and setting up network of distribution centres has weighed on profits.
The Yoox model
Meanwhile, Yoox developed a different business model, buying overstocked or unsold items from previous seasons from high-profile fashion houses such as Dolce & Gabbana, Armani and Cavalli, and selling them online at a discount.
It also operates full-price online stores - what it calls "monobrand e-shops" - for the biggest fashion houses, describing them as being "powered by Yoox".
The formula is proving to be very profitable. 2014 saw its net profit rise by 9.4% to €13.8m.
Yoox's shares surged in Milan after the announcement, rising 8.9% to 22.95 euros. Richemont shares dropped 0.2% on the Swiss Market Index to 79.75 Swiss francs.