'We can't get pension cash' complain some over-55s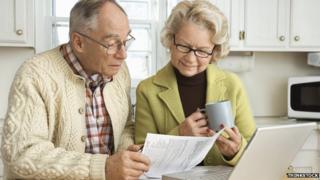 People trying to access their pensions under government reforms are complaining that many pension providers will not give them their money.
The changes mean that anyone over the age of 55 should be able to get cash out of their pension, subject to tax.
But some companies are not allowing savers to withdraw repeated lump sums from their pension pots.
Others will not allow their clients to cash in the whole pot - and cannot promise to do so in the near future.
Terry Fletcher, a 65-year-old former salesman from Surrey, said he had been unable to withdraw cash from a pension pot.
He said that the company involved - Zurich - told him it was not possible to take any money out.
"All I want to do is draw it as cash," he told the BBC.
"It was all excuses. But you can't get access to your money. It seems the government came out with these proclamations, but when you try and do it, there are a number of stumbling blocks."
Transfers
However, Zurich insisted that its customers are able to withdraw cash, either in part, or by taking the whole pot.
Nevertheless, it is thought that many smaller pension firms will not offer the chance to take cash out.
A survey by Xafinity - a pension consultancy - has suggested that only 5% of providers were planning to allow "full flexibility".
Paul Darlow, an actuary with Xafinity, said this was because of the extra costs involved with working out tax liabilities.
"Deducting and paying tax is not straightforward; most systems are not designed to do that," he said.
However, pension companies are obliged to allow savers to transfer to other schemes, if they cannot facilitate it themselves.
The Association of British Insurers (ABI) - which represents many pension providers - said transferring would be the best option for many.
"Customers can access flexible pension options but may need to transfer first," said a spokesperson for the ABI.
---
Pension changes 2015
People aged 55 and over can withdraw any amount from a Defined Contribution (DC) scheme, subject to income tax
Tax changes make it easier to pass pension savings on to descendants
Many people with Defined Benefits (DB) schemes will be allowed to transfer to DC plans
All retirees will have access to free guidance from the government's Pension Wise service
Existing annuity holders unaffected for the time being, but there are plans for them to be able to sell their annuity
---
Meanwhile many people have responded cautiously to the reforms.
Hargreaves Lansdown said the first day of the reforms - Bank Holiday Monday - was relatively quiet.
But of those who called, just 7.7% were interested in withdrawing all their savings.
Most calls were about long-term pension plans, such as buying an annuity, or setting up drawdown plans.
However, another provider - Fidelity Worldwide Investment - said 75% of the calls it received were about withdrawing cash.
It said people with smaller pension pots were interested in withdrawing all their savings, while those with larger sums wanted to take out just a proportion.
"We have got a number of sizeable accounts looking to cash out completely, but they seem to be the exception at this stage," said Richard Parkin, head of retirement for Fidelity Worldwide Investment.