US stocks falter as utilities fall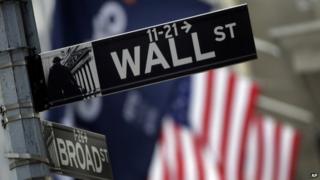 (Close): The US stock market failed to sustain its morning rally as falling utilities cancelled out earlier gains made on news of takeover deals.
The Dow Jones fell 5.43 points, or 0.03%, to 17,880.85, while the S&P 500 shed 4.29 points, or 0.21%, ending the day at 2,080.62.
The tech-centric Nasdaq lost 7.08 points, or 0.14%, to end at 4,910.23.
FedEx shares rose 2.69% after agreeing to buy Dutch delivery firm TNT Express for €4.4bn (£3.2bn; $4.8bn).
In 2013, UPS tried to buy TNT but the deal was blocked by European competition regulators.
On the Nasdaq, shares in Informatica jumped 4.28% to $47.79 after the company said it was being bought by private equity firms Permira Funds and Canada Pension Plan Investment Board for about $5.3bn.
Under the terms of the deal, shareholders in Informatica will get $48.75 per share in cash.
General Motors' shares fell 2.53% after Canada announced it had sold its remaining stake in the carmaker.