China shares see biggest fall in a month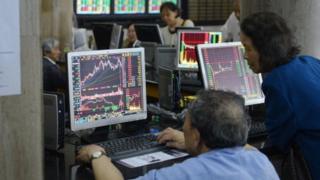 Mainland Chinese shares posted their biggest fall in a month after growth data showed China's economy had slowed further in the three months to March this year.
Official numbers showed an expansion of 7% for the period - the slowest economic pace of growth since the global financial crisis in 2009.
The Shanghai Composite closed down 1.2% to 4,084.16 points.
Hong Kong's Hang Seng ended up 0.2% to 27,618.82 - reversing earlier losses.
Investor sentiment was given a boost by mid-afternoon on speculation the mainland would introduce further stimulus measures.
Analysts said they expected China's economic growth to have slowed to 7% in the quarter - lower than the 7.3% posted for the three months to December.
Last year, the world's second-largest economy grew at its slowest pace since 1990, expanding by 7.4%.
Analysts said slower growth, together with the country's cooling property market - a key economic driver - was likely to mean further easing by China's central bank this year, including further rate cuts among other measures.
Elsewhere in Asia
Tokyo's benchmark Nikkei 225 index closed down 0.20% at 19,869.76 points, despite a new report by the International Monetary Fund (IMF) which upgraded Japan's economic growth outlook.
The report said lower oil prices, together with a weaker yen, were likely to boost growth in the world's third-largest economy.
In its latest World Economic Outlook, released on Tuesday in Washington, the IMF said Japan's economy was expected to expand by 1% this year and by 1.2% in 2016, compared with earlier forecasts of 0.6% and 0.8% respectively.
In Australia, the benchmark S&P/ASX 200 index closed down 0.64% at 5,908.40 points.
The IMF report said Australia was facing a downturn in commodity prices that was "continuing to hit [its] economy".
It forecast Australia would post economic growth of 2.8% in 2015 and 3.2% next year, in line with previous forecasts.
Australian Treasurer Joe Hockey said this week that the recent plunge in iron ore prices would reduce revenue forecasts by A$25bn (£13bn; $19bn) over the next four years.
Meanwhile, South Korea's benchmark Kospi index closed up 0.39% at 2,119.96.