Nokia agrees deal with Alcatel-Lucent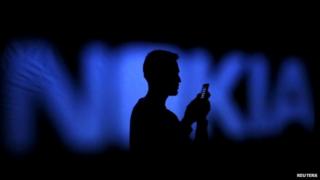 Nokia says it has agreed to buy smaller French rival Alcatel-Lucent in a €15.6bn (£11.2bn) takeover deal.
Under the all-share deal, Alcatel-Lucent shareholders will own 33.5% of the new combined firm, and Nokia shareholders 66.5%.
Both firms said their boards had agreed the takeover and they expected it to go through in the first half of next year.
The merger will form a European telecoms equipment group worth more than €40bn (£29bn).
Nokia's chief executive, Rajeev Suri, said the firms' complementary technologies would give them "the scale to lead in every area in which we choose to compete".
"I firmly believe that this is the right deal, with the right logic, at the right time," he added.
Weaker players
The two firms are currently among the weakest players in the telecoms equipment industry. However, the combined firm will have a market share of 35%, making it second only to Swedish rival Ericsson, which has 40%, according to Bernstein Research.
The firms expect the merger to cut operating costs by €900m by 2019, but Nokia said it would not cut jobs beyond what Alcatel had already planned.
"No job cuts" in France was the condition under which the French government said on Tuesday that it would back the deal.
'Long and rocky road'
Alcatel-Lucent's shares fell 10% in early trading, with traders attributing the fall to shareholders' disappointment that the deal did not have a cash element.
However, Nokia's shares rose almost 5%, despite some analysts saying that the deal could take a long time to pay off.
"Nokia's risk profile will increase considerably," said analyst Mikael Rautanen from Inderes Equity Research.
"The risk is that the merger will become a long and rocky road and investors lose their patience following through the integration programme that will take years,"
But Jukka Oksaharju from Nordnet brokerage said Nokia had secured a good price.
"We know that there are risks related to France and the cost cuts, but I believe that Nokia has calculated a margin of safety to the deal price."