US stock markets end higher on corporate earnings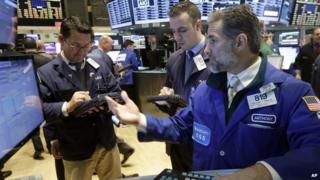 (Close): US shares ended Wednesday higher as a spate of positive company earnings, including McDonalds, cheered investors.
The Dow Jones added 88.68 points to 18,038.27 and the S&P 500 index gained 10.67 points to finish at 2,107.96.
The Nasdaq rose 21.07 points to close at 5,035.17.
McDonald's shares were one of the day's biggest winners, rising over 3% on better-than-expected first quarter earnings.
Although the fast food giant said like-for-like sales declined 2.6% in the first quarter "reflecting negative guest traffic", the company said it had a turn around plan that it will reveal on 4 May.
Shares in Boeing were the day's biggest losers, falling 1.4% despite Boeing reporting that profits increased by 38% in the first three months of 2015.