HSBC lifts FTSE but French Connection hit by sales alert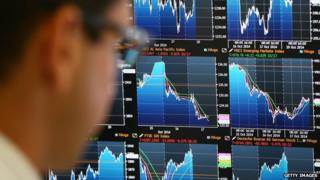 (Close): HSBC lifted the FTSE 100 as it mulled shifting its HQ abroad, but shares in French Connection dived by almost a third after weak sales warnings.
The FTSE 100 index closed up 0.24% at 7,070.70.
French Connection shares lost 26.24% to 39p a share, after the retailer said half-year sales were now expected to be "materially lower than expected".
It cited "challenging" trading conditions through the Easter period.
"The financial performance for the year is now expected to be below the current market expectations," the company said.
French Connection, which has been shutting under-performing outlets, said it continued to "execute our store closure plan and we now expect to close seven stores during the current year".
In the FTSE 100, shares in HSBC rose 2.86% after it said it was considering moving its headquarters out of the UK following "regulatory and structural reforms" in the banking sector since the financial crisis.
"Any such move could lessen their burden in terms of levies and additional taxes that have been applied to the UK banks," said Keith Bowman from Hargreaves Lansdown.
BAE Systems was one of the FTSE's biggest winners, rising 2.28% after the defence firm said it had started a review of its US-based IT and analysis support businesses, which could result in a sale.
BAE said the businesses "have generated external interest and a number of enquiries".
AstraZeneca shares fell 1.67% after the pharmaceuticals firm reported in a fall in first-quarter sales and profits.
Revenue fell 6% to $6.06bn, while pre-tax profit dropped 8% from a year earlier to $1.7bn. Sales were hit by competition from generic rivals for its heartburn drug Nexium after the US patent expired.
On the currency markets, the pound rose 0.81% against the dollar to $1.518 and rose 0.29% against the euro to €1.3954.