House boats among the few affordable homes in London, says charity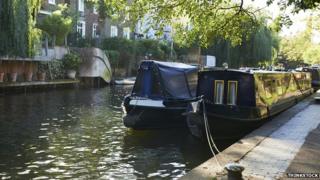 One of the few chances of finding an affordable home in London could be to live on a house boat, according to the homeless charity Shelter.
It claimed that only 43 homes for sale in the city ranked as affordable for those on an average wage.
Four of those were houseboats, and one was a mobile home.
The research suggested that 80% of properties in England were unaffordable for families looking to buy a home for the first time.
It used a typical income and mortgage criteria as the basis for its affordability test.
'Scandal'
The houseboats cost up to £165,000 each, and the mobile home cost £125,000.
But in 10% of local authority areas there were no affordable homes for sale at all.
These included areas like Chelmsford in Essex, Watford in Hertfordshire, and Gravesham in Kent.
"Over 80% of homes on the market are off limits for a typical family, and this is nothing short of a scandal," said Campbell Robb, Shelter's chief executive.
Where are homes affordable?
English region
Number of affordable homes
% of market affordable
North East
5,921
42.2%
North West
14,435
32.4%
Yorkshire and Humber
7,682
31.6%
West Midlands
5,058
21.5%
East Midlands
4,450
19.4%
East
1,680
7.5%
South West
1,678
6%
South East
1,238
3.9%
London
43
0.1%
England total
42,185
16.9%
Source: Shelter
Base: 2 bedroom houses on Zoopla
The figures were calculated according to local wage variations - and being offered mortgages on the basis of 3.4 times income.
For families that need at least two bedrooms, just 17% of properties are affordable, according to Shelter. For those needing three bedrooms, 7% are affordable.
House price calculator
Use our calculator to see where you can afford to rent or buy