US markets up but McDonald's suffers from shake-up plan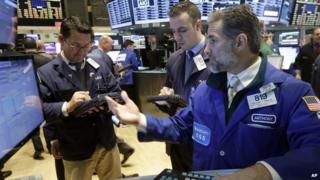 (Close): Wall Street opened the week up after news of the first rise in US factory orders in eight months.
The Dow Jones rose 0.26% to 18,070 points, while the S&P 500 advanced 0.3% to 2,114 points.
The technology-focused Nasdaq index too advanced by 0.2% to 5,016.93 points.
McDonald's was the Dow's biggest loser, with shares down 1.7% after chief executive Steve Easterbrook announced a shake-up at the fast-food chain.
AMC Networks, known for hit shows such as "Breaking Bad" and "The Walking Dead", rose 4.9% to $80.02 after announcing quarterly results that beat analyst expectations, as a strong demand for original television shows boosted advertising sales.
Among winners on the Nasdaq were health firms: Unitedhealth Group advanced 1.2% and Aerie Pharmaceauticals rose 16.5%.
Tesla Motors shares also gained 2%. The company announced its new energy wall last week, a long-lasting battery intended to power homes.