BMW's quarterly earnings beat forecasts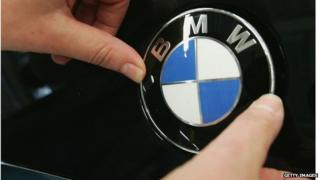 Strong sales of sport utility vehicles (SUVs) in Europe and the US helped German carmaker BMW to beat forecasts with its first-quarter results.
Underlying earnings rose more than 20% to €2.52bn ($2.84bn; £1.85bn), beating analysts' forecasts.
Revenues in the January-to-March period rose 14.7% to €20.9bn.
Growth in North America as well as Europe powered results, with the Munich-based firm citing strong demand for luxury SUVs, such as its X5 model.
"We have got off to a good start in 2015," said Norbert Reithofer, the chairman of BMW's board of management.
BMW also reaffirmed its guidance for solid growth this year.
Sales of luxury vehicles and motorcycles will stay strong, the company says, helped by continued demand for new BMW models.
"We are aiming to achieve solid growth in 2015, and hence new record figures for sales volume and profit before tax," said Mr Reithofer.
BMW's Mini unit also saw robust demand in the period: sales of three and five door Minis doubled during the first quarter.
Motorcycle sales reached a new high in the first quarter, and BMW forecasts the unit will continue to grow this year.
However, the carmaker said some markets, including Russia, would present challenging conditions this year.
BMW also expects growth in the Chinese car market to slow this year.
After rising in the morning, shares in BMW finished down 2.25% in Frankfurt.