Airport runway review faces delay for more consultation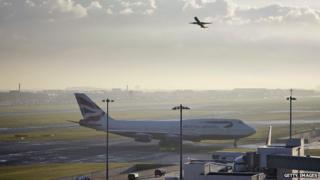 The result of a long-running inquiry into the need for a new airport runway in south-east England may be delayed for more public consultation.
Sir Howard Davies, the chairman of the Airports Commission, has decided to take further evidence on problems caused by air pollution.
His decision comes after a Supreme Court ruling in April, ordering the UK to do more to improve air quality.
The commission has already recommended three options for a new runway.
The consultation will begin immediately and end on Friday 29 May.
The final report was expected next month, but could now be delayed as a result of the consultation.
The preferred options are:
A new runway at Heathrow
Extending one of the two existing runways at Heathrow
A new runway at Gatwick
The Airports Commission began its inquiry three years ago, with the result being put off until after the general election.