Russia's Rusal swings to net profit in first quarter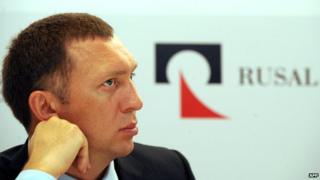 Russia's United Company Rusal, the world's biggest aluminium producer, swung to a net profit in the first quarter of this year after posting a loss a year ago.
Its net income was $572m (£365m) from January to March, compared to a net loss of $325m in the same period in 2014.
A weaker rouble and lower costs boosted the company's earnings, it said.
The turnaround also comes as aluminium prices have fallen 20% this year.
Worries about oversupply on fears China will flood the market with its capacity have put pressure on prices of the metal used in packaging and vehicles.
In April, Rusal said that it may idle 200,000 tons of loss-making capacity this year on the back of weaker prices.
But the firm controlled by Russian billionaire Oleg Deripaska said on Wednesday that it expects the price of metal to stabilise at or above $2,000 a tonne.
"Longer term, aluminium market fundamentals remain strong, and as such we expect a market correction and steady consumption growth," said chief executive Vladislav Soloviev in a statement.
The company's revenue was also up to $2.5bn from $2.1bn a year ago.
Despite the positive earnings, its Hong Kong listed shares were down 0.2% after the results.