Manchester United posts £2.9m loss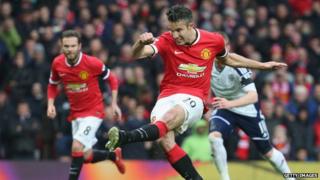 Manchester United has reported a loss for the first three months of the year, hit by a decline in broadcasting and matchday revenue.
It lost £2.9m between January and March. That compares with an £11m profit in the same period last year.
The loss will put added pressure on the club's debt burden, which increased 12.4% in the quarter to £395.4m.
However the club did raise its financial guidance for 2015.
It now expects to make £103m - £110m in the year to June 2015 compared with a previous forecast of £90m - £95m.
Manchester United shares rose 1.16% on the news.
The club, which is owned by the American Glazer family, is currently fourth in the Premier League, 16 points behind leaders Chelsea.
Revenue from sponsorship deals rose 22.1% to £37.5m, but retail sales and product licensing fell 9.5% to £7.6m.
Broadcasting revenue fell 39% and matchday sales fell by 31.3%.
Manchester United blamed fewer broadcast and home games in the quarter, as well as the team's absence from the Uefa Champions League, for the decline.
"As we look forward to next season, on the playing side we expect to be challenging for trophies in all competitions and on the commercial side we are excited by the numerous opportunities for further growth, including the first year of our ten year partnership with Adidas," said executive vice chairman Ed Woodward.
Manchester United will spend around £101m on players in the year to the end of June he added on a conference call.
Player spending in the previous year stood at £90m. It will spend more on players next season than this year as a higher volume of contracts will be up for renewal.
"There are several players - eight or nine - out of contact next season," said Mr Woodward. "A number will be offered new contracts."