SABMiller buys London craft brewer Meantime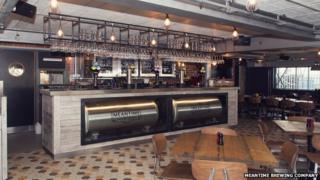 Drinks giant SABMiller has agreed to acquire Meantime Brewing Company, a London-based craft brewer.
The deal gives SABMiller a foothold in the "fastest-growing segment of the UK beer market", the company said in a statement.
The acquisition will help SABMiller appeal to female drinkers, said its European managing director Sue Clark.
The acquisition of the 15-year-old company is expected to be completed in June 2015.
SABMiller plans to grow sales of Meantime's beers nationally and possibly export to Europe.
"We love local variety, and carefully nurture our 200 local and heritage beers," said Ms Clark.
Volumes of beer sales at Meantime grew by 58% in 2014, outpacing the UK beer market's 1% growth, according to SABMiller.
"They see the opportunity, and believe in the longevity, of modern craft beer in the UK," said Meantime's chief executive, Nick Miller.
Meantime's beers, which include London Porter, India Pale Ale and Yakima Red, will join SABMiller's beer brands such as Peroni Nastro Azzurro and Pilsner Urquell.
"In the context of SABMiller, [the acquisition] is immaterial," says Andrew Holland, a drinks analyst at Societe Generale. "The UK is less than 1% of the business."
SABMiller's small presence in the UK has so far been an asset, says Mr Holland, as competition is high and profitability low in the UK.
But there are good opportunities in some specialist areas of the market, says Mr Holland. "If they could find something similar, I wouldn't rule [another acquisition] out."