UBS pays $545m to settle foreign exchange probe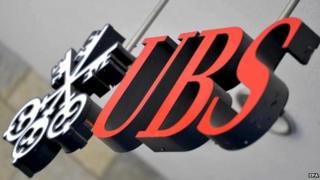 Swiss bank UBS has paid US authorities a total of $545m (£352m) to settle an investigation into the manipulation of foreign exchange rates.
The total includes a $203m fine after UBS pleaded guilty to a charge it rigged Libor benchmark interest rates.
UBS announced the move hours before US and UK authorities said five banks were to pay fines totalling $5.7bn related to the foreign exchange investigation.
The others are JPMorgan, Citigroup, Barclays and RBS.
UBS said it had settled with the US Department of Justice, the US Federal Reserve and the Connecticut Department of Banking.
In 2012, the bank reached a non-prosecution agreement with the US Department of Justice over the Libor scandal.
However, this was revoked by the department. As a result, UBS has agreed to plead guilty to one count of wire fraud, pay the $203m fine and accept a three-year probation period.
UBS said the Fed and Connecticut Department of Banking had found that the bank "engaged in unsafe and unsound business practices" relating to its foreign exchange business.
As a result, UBS is paying a $342m penalty to the Fed and has agreed to undertake a series of "remedial measures".
In a statement, UBS said: "The conduct of a small number of employees was unacceptable and we have taken appropriate disciplinary actions."