Chinese shares hit seven-year high despite weak factory data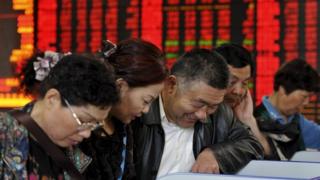 Mainland Chinese shares closed at a seven-year high despite a survey indicating manufacturing activity in the country continued to decline in May.
The HSBC survey pointed to a continued slowdown in China, but investors are hoping this will lead the government to introduce more stimulus measures.
The Shanghai Composite rose 1.9% to 4,529.42.
Hong Kong's benchmark Hang Seng index closed down 0.2% at 27,523.72.
Shares of Goldin Financial and Goldin Properties fell more than 60% at one point, wiping about $23bn off the value of the companies. They ended the session down about 40%.
Both Goldin companies said in separate stock exchange filings they were not aware of the reason for the sharp fall in shares.
The steep slide follows that of Hanergy Thin Film Power, which fell nearly 50% on Wednesday before its trading was halted.
A source had told Reuters that the Chinese company is under investigation by Hong Kong's securities regulator.
Shanghai bull run
Meanwhile, mainland shares were also given a boost this week on further speculation that an investment link between the Hong Kong and Shenzhen stock exchanges will soon be launched.
The head of the Hong Kong stock exchange has told the BBC a decision on the timing of the much-anticipated investment link between Hong Kong and Shenzhen exchanges could "hopefully" come within days.
Chinese stocks have been on a bull run for months, which some analysts have said is due to an investment scheme launched last year between Hong Kong and Shanghai. The scheme allows investors to trade in each other's markets.
In Japan, the Nikkei index closed flat, down just 0.03% at 20,202.87, after finishing at a new 15-year high on Wednesday.
In Australia, the S&P/ASX 200 index closed up 0.93% at 5,662.30.
South Korea's benchmark Kospi index closed down 0.78% at 2,122.81.