US stocks fall amid Greece worries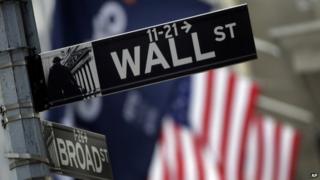 (Close): Stocks closed lower on Wall Street amid concerns about Greece which has warned it may miss a June debt repayment.
The dollar climbed against a basket of currencies, and against the Japanese currency it rose above 123 yen.
Among stocks, the Dow Jones fell 190.48 points to 18,041.54, while the S&P 500 dropped 21.86 points to 2,104.2.
The Nasdaq index was 56.61 points lower at 5,032.75.
Shares in Time Warner Cable rose 7.26% to $183.6 after Charter Communications agreed to buy the company for $55.8bn. However, the share price remained below Charter's cash and stock offer of $195.71 a share.
Shares in Charter Communications rose 2.54% to $179.78.
The latest S&P/Case-Shiller housing survey showed house prices in 20 metropolitan areas were up 5% in March from a year earlier, the same rate as in February.
The biggest gains were seen in San Francisco, where they rose 10.3% over the year, and Denver, where prices climbed 10%.