Ireland to sell Aer Lingus stake to IAG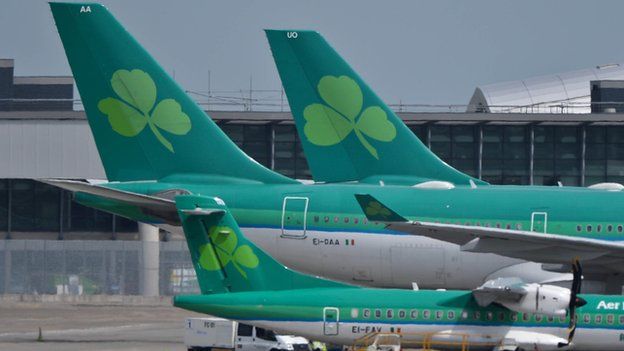 The Irish government has agreed to sell its 25% stake in Aer Lingus to IAG, the owner of British Airways.
While the Irish government is now supporting the takeover offer, the other big shareholder in Aer Lingus, Ryanair, is yet to make a decision.
Ryanair chief executive Michael O'Leary recently said his company would consider any offer from IAG.
A spokesperson for Ryanair, which owns a 29.8% stake in Aer Lingus, said on Tuesday: "The board of Ryanair has yet to receive any offer, and will consider any offer on its merits, if and when an offer is made."
There was also opposition to the IAG offer from Irish MPs who were concerned that services between Irish airports and London's Heathrow might be cut.
However under Tuesday's deal, IAG has agreed to a legally binding commitment to maintain current services between Heathrow and Dublin, Cork and Shannon for at least seven years.
In a statement, Aer Lingus chairman Colm Barrington said: "This is a compelling transaction for Aer Lingus, its shareholders, its employees, its customers and for Ireland.
"The company will reap the commercial and strategic benefits of being part of the much larger and globally diverse IAG Group."
Under the deal Aer Lingus will operate its international passenger services under the Aer Lingus brand.
The company will also keep Aer Lingus as its registered name and its head office will remain in the Republic of Ireland.
Willie Walsh, chief executive of IAG said that under the deal "Aer Lingus would maintain control of its brand and operation while gaining strength as part of a profitable and sustainable airline group in an industry that's consolidating".
"Ireland's vital air links to Europe and North America would be enhanced, creating new jobs, with cast-iron guarantees on ownership of Aer Lingus' Heathrow slots," he added.
The deal will require approval by the Irish parliament.