Shanghai shares hit seven-year high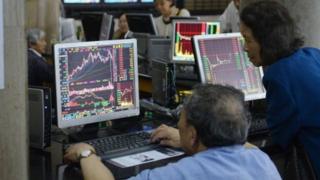 Mainland Chinese shares closed at a seven-year high on Thursday amid volatile trade which saw stocks plunge as much as 5% at one point.
Reversing losses, the Shanghai Composite finished up 0.8% at 4,947.10, its highest level since January 2008.
Shares were initially down after more brokerages clamped down on margin trading, where investors can borrow money to buy stocks.
Hong Kong's Hang Seng, on a downward trend, ended 0.4% lower at 27,551.89.
Investors also freed up cash amid a raft of initial share offerings in Shanghai.
According to local reports, the new listings were expected to lock up 8.3tn yuan ($1.34tn; £873bn) of cash.
Meanwhile, the largest shareholder in technology giant Lenovo was expected to gain approval for an initial public offering in Hong Kong on Thursday.
The Chinese conglomerate, Legend Holdings, aims to raise as much as $2bn from investors.
Australia trade
In Australia, the benchmark S&P/ASX 200 closed down 1.42% at 5,504.30 after the government posted its worst trade deficit on record on Thursday.
Figures from the country's bureau of statistics showed imports exceeded exports by $3.9bn Australian dollars ($3.01bn; £1.96bn).
Australia's economy has been hurt by a collapse in the price of coal and iron ore, which are two of its biggest exports.
Disappointing retail sales for April also dampened investor sentiment, with official statistics showing month-on-month growth of 0.0% against expectations for a rise of 0.3%.
Chris Weston from IG Markets said the Australian dollar had been "hit hard" after both sets of data, falling from $0.78 to $0.77 against the US dollar.
"Of course, there is still much water to flow under the bridge, but it is clear that the market feels this could start a trend in the data - and whether or not this is the case is yet to be seen - but there are certainly some worrying trends," he said.
Investor sentiment in the country was also hit earlier this week after the Reserve Bank of Australia gave no clear indication that it would cut its benchmark lending rate again soon.
Better-than-expected economic growth numbers released by the government on Wednesday further dampened investors' hopes of a rate cut in the near future.
South Korea growth
In South Korea, the benchmark Kospi index closed up 0.47% at 2,072.86 following positive economic growth data.
Latest figures from the country's central bank showed growth in Asia's fourth-largest economy had marginally beaten estimates to expand 2.5% during the first three months of 2015 compared with a year earlier, boosted by construction and investment.
The Bank of Korea had estimated annual growth of 2.4% for the period.
Quarter-on-quarter growth came in at 0.8%, in line with expectations. Manufacturing and private consumption also contributed to the nation's economic expansion.
Analysts had predicted that the country's growth would remain soft in the first quarter of 2015 before picking up pace later in the year.
Elsewhere, Japan's Nikkei 225 closed flat, up just 0.07% at 20,488.19 despite US markets closing higher, boosted by Federal Reserve data which showed the US economy had returned to growth.
Earlier this week, the index ended its longest winning streak since 1988.