Time running out to stop Greece leaving euro: Hollande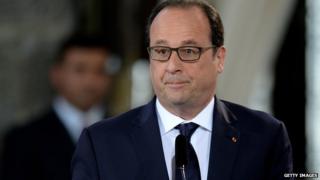 French President Francois Hollande has said there is "little time" to prevent Greece from leaving the eurozone.
Mr Hollande said on Monday the ball was firmly in Greece's court.
"It's not France's position to impose on Greece further cuts to smaller pensions, but rather to ask that they propose alternatives," he said on a visit to Algiers.
"We have to get to work... everything must be done in order that Greece remains in the eurozone."
Talks with Greek and EU officials in Brussels on Sunday failed to reach an agreement that would release bailout funds to Greece.
Eurozone finance ministers will meet on Thursday, but Greek Finance Minister Yanis Varoufakis said he did not plan to present new proposals at the meeting.
"The Eurogroup [of eurozone finance ministers] is not the right place to present proposals which haven't been discussed and negotiated on a lower level before," he told German newspaper Bild.
The prospects of a Greek default in just over two weeks' time has worried investors.
On Monday, the FTSE 100 in London fell 1.1% to 6,710 points, while the Dax in Frankfurt lost 1.9% and the Cac 40 in Paris shed 1.75%.
In the US, the Dow Jones closed down 0.6%, or 107 points, at 17,791.
Athens' benchmark ATG index, which fell 5.9% on Friday, fell a further 4.7% on Monday.
'Significant gaps'
Greek bank stocks were hit hardest, with National Bank of Greece closed down 5.7% and Bank of Piraeus was 12.2% lower.
A European Commission spokesman said while progress was made at Sunday's talks, "significant gaps" remained.
Europe wants Greece to make spending cuts worth €2bn (£1.44bn) to secure a deal that will unlock bailout funds.
Greece must repay more than €1.5bn of loans to the International Monetary Fund (IMF) at the end of June and promise further economic reforms to receive about €7bn of bailout funds.
The funds have been delayed by three months amid growing fears the government will soon run out of money.
Greece's next repayments
Sticking points between Greece and the IMF and EU remain reforms to VAT and pensions.
European Commission spokeswoman Annika Breidthardt rejected an assertion that creditors were seeking pension or wages cuts. They only wanted Athens to phase out early retirement and remove "incorrect incentives for early retirement".
Greece had already agreed to specific targets for its primary surplus, she said, with 1% of GDP this year, followed by 2% in 2016 and 3.5% by 2018.
An opinion poll for Greece's Mega TV found that more than two thirds of respondents believe the Greek government will have to back down, with just 19.4% thinking the lenders will agree to further concessions.
'Ready to negotiate'
Talks were reported to have broken up after just 45 minutes on Sunday.
Greek deputy prime minister Yannis Dragasakis said that Athens was still ready to negotiate with its lenders.
He said Greek government proposals submitted on Sunday had fully covered the fiscal deficit as demanded.
But on Monday Greek Prime Minister Alexis Tsipras warned Athens would stand its ground until its creditors become "realistic".
"We will wait patiently until the institutions become more realistic," Mr Tsipras wrote in Greek newspaper Ephimerida ton Syndakton, adding that "political opportunism" was driving the creditors to keep pressing Athens to make cuts to pensions.
He called on the IMF and EU to "meditate" on the idea that: "We are not only the heirs of a long history of struggle. We are also carrying on our shoulders the dignity of a people, and the hope of the peoples of Europe."
Greece in numbers
€320bn
Greece's debt mountain
177% country's debt-to-GDP ratio

25% fall in GDP since 2010

26% Greek unemployment rate
Reuters