Asian shares down on worries over Greek debt talks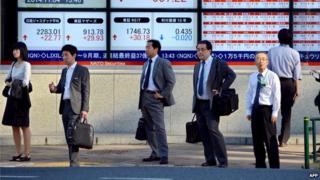 Asian stock markets headed lower on Thursday as investors stayed on the sidelines while last-minute efforts to avoid a Greek debt default continued.
Late-night talks on Wednesday between Greece and the European Commission, the European Central Bank and the IMF failed to find a solution.
Talks will resume on Thursday, with eurozone finance ministers hoping to endorse a deal when they meet later.
Japan's Nikkei 225 index ended down 0.4% at 20,771.40.
Japanese car giants Toyota, Nissan and Mitsubishi have expanded a recall of cars to replace airbags made by troubled car parts maker Takata.
The recalls had initially been issued in North America, but have now been extended to the rest of the world.
At a news conference on Thursday following the firm's annual general meeting, Takata's chief executive, Shigehisa Takada, apologised to shareholders for the first time since the airbag issues started.
Takata's shares closed up 0.5%.
In China
Chinese shares followed the regional trend lower, with the Shanghai Composite closing down 3.46% at 4,527.78 points, while Hong Kong's Hang Seng closed down 0.95% at 27,145.75.
In Australia, the benchmark S&P/ASX 200 closed down 1% at 5,632.7, retreating from a three-week high of 5,705.80 recorded in the previous session.
In South Korea, the benchmark Kospi index ended flat at 2,085.06. The government said it would pass a supplementary budget to counter the economic fallout from an outbreak of the Middle East Respiratory Syndrome (Mers).
It also cut its growth and inflation forecasts for the year.