Bit of fizz in UK summer alcohol and leisure sales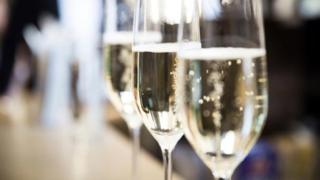 Summer sales of UK-made sparkling wine, camping equipment and bicycles are on the rise as consumers celebrate the great outdoors, official figures show.
Sales of domestic sparkling wine have more than doubled from £2.9m in 2010 to £6m in 2014, new data from the Office for National Statistics (ONS) show.
There are almost 500 vineyards operating in England and Wales.
Consumers' drinking habits in the hot weather had also shifted towards craft beers and fruit ciders, the ONS said.
Sales of beer grew for two consecutive summers in 2013 and 2014, the figures showed, while sales of UK-made cider, perry and mead grew by 59% from 2010 to 2014.
The popularity of fresh cuts of meat grew by 51% from 2008 to 2014, as barbecue cuisine became a little more expansive.
The figures also showed that summer sales of camping equipment had shot up, helped in part by the good weather in early 2014.
Canvas and caravan sales rose by 75% from 2008 to 2014, to £18.4m. Sales of sleeping bags manufactured in the UK saw a fourfold rise over the same period.
Yorkshire hosted the early stages of the Tour de France in 2014 and this coincided with a rise in sales of UK-manufactured bikes from £36m to £60m from 2013 to 2014.
There was also a 70% year-on-year growth in the volume of bicycles produced in the UK, the ONS said.
In June, Aviva, one of the UK's largest insurers, said that customers taking out additional cycle insurance rose by 75% from 2009 to 2015 as the popularity of the sport among middle-aged and wealthy men - the so-called Mamils - increased.