Eurostar carries record passengers despite Calais strike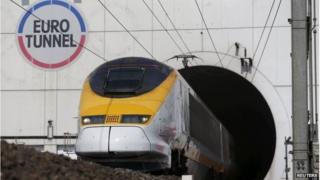 Channel Tunnel rail operator Eurostar has reported record quarterly passenger numbers despite the disruption caused by strikes in Calais.
It carried 2.8 million passengers from April to June, which it said was the highest in any three-month period.
More business travellers and a boost from its new service to the south of France lifted sales.
Last month, striking ferry workers in Calais closed the port and blocked services using the Channel Tunnel.
Disruption 'difficult'
Eurostar chief executive Nicolas Petrovic told the BBC's Today programme: "We can see that the leisure market is doing very well, especially out of the UK because the sterling is stronger."
The new service to the south of France was proving popular in the summer and the service to Lyon in winter was connecting skiers to the Alps, he said.
Regarding the disruption to passengers around the strike and the company's communication to passengers, he said: "It's been very difficult for passengers because of the closure of the tunnel.
"We need to do better, but we are investing constantly to improve our systems to make thing better for the customers."
MyFerryLink workers walked out last month over the sale of the company's ferries to the rival firm DFDS Seaways.
The strike closed the Port of Calais and resulted in large stretches of the M20, which leads to Folkestone and Dover, being used as a lorry park.
Both Eurostar and car-carrying Shuttle services were suspended due to fire on the tracks.
Despite this, Eurostar said second quarter sales rose by 1.5% to £232m and passenger numbers rose 3%.
Trading in the first quarter of the year had been affected by terrorist attacks in Paris and a lorry fire which closed the tunnel.
Sales across the first half of the year were down 2%, but much of this was down to movements in currency rates because when foreign exchange effects are removed, half year revenues rose 4%.
Eurostar is owned by the French and Belgian state-owned rail operators, Canada's Caisse de Depot et Placement du Quebec (CDPQ) and the UK's Hermes Infrastructure.