Jury retires to deliberate in Libor rigging case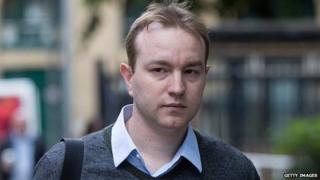 The jury in the trial of Tom Hayes, the former UBS and Citigroup trader charged with manipulating global Libor interest rates, has retired to digest nine weeks of evidence.
Mr Hayes has pleaded not guilty to the eight counts of conspiracy to defraud.
Libor, which stands for London Interbank Offered Rate, is the agreed rate at which large banks charge each other for borrowing.
Mr Hayes is the first trader to be tried by a jury for Libor manipulation.
Several trillion dollars of loans, mortgages and other deals are tied to the Libor rate worldwide.
The Serious Fraud Office alleges that Mr Hayes, from Fleet, Hampshire, corralled and bribed traders across 10 lenders into manipulating the rate for a profit.
Mr Hayes' defence was that he was open about trying to fix rates and that his managers were aware of, and approved of, the practice.
He also said Libor was unregulated at the time and he didn't think what he was doing was dishonest.
'Honest members of society'
Judge Jeremy Cooke told the jury that the central decision they had to make was whether Hayes had acted dishonestly "by the standards of reasonable, honest members of society".
"Not by the standards of the market in which he operated, if different (from those of reasonable and honest people). Not by the standards of his employers or colleagues, if different. Not by the standards of bankers or brokers in that market ... even if many or even all regarded it as acceptable," the judge said.
"Do not concern yourself with others who may or may not be prosecuted, whether or not there was or was not a more general endemic problem in the market at the time of which they were or were not part," he added.