Rosneft profits hit by lower oil price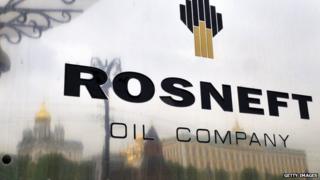 Russian oil giant Rosneft has reported a sharp drop in profits due to lower oil prices.
Net income between April and June was 134bn roubles ($2bn; £1.3bn), down 22% compared with a year earlier. Revenue was 1.3tn roubles.
Despite the drop, the results were better than analysts had expected.
In the second quarter last year, the price of oil was more than $100 a barrel, while this year it ranged between $55-$65.
The weak rouble helped to offset lower prices - Rosneft sells its oil in dollars, so a weak currency means the price of oil in roubles rises.
Despite the sharp fall in the oil price, the company maintained its production levels during the quarter, producing an average 5.2 million barrels a day.
The first six months of this year, the company said, "was characterised by high fluctuation of oil price and exchange rate, increased transportation tariffs and tax burden, [and] high interest expenses due to [a] change in interest base rate".