US shares higher despite oil price volatility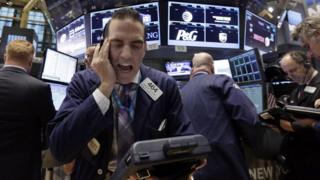 (Close): Shares on Wall Street ended higher on Wednesday despite a fall in oil prices after official US data showed large stocks of crude.
The Dow Jones Industrial Average closed up 0.73% at 16,912.2 points.
The price of Brent crude rose as much as 0.8% to $52.73, but later settled at $51.33 a barrel.
All the other main US indexes made similar gains, with the S&P 500 closing up 0.8% at 1,995.8, while the Nasdaq finished 0.9% higher at 4,791.1.
Oil company Chevron was the biggest gainer on the Dow in early trading and ended the day up 1.3%.
The construction equipment maker Caterpillar rose nearly 2% in morning trade, but finished down 0.6%.
Its shares have fallen from about $115 since the beginning of the year after cutting its workforce.
On the wider S&P500, shares in Yum Brands, the owner of KFC and Taco Bell, ended the day down 18.8%.
The company lowered its full-year earnings forecasts, saying it had been hit by slow growth in China and the strength of the dollar.