Philips' sale of Lumileds may be blocked by US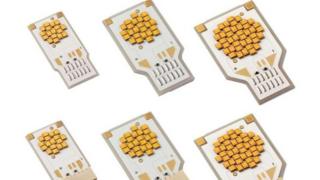 Philips has announced that its $3.3bn (£2.2bn) sale of Lumileds could be blocked by US authorities.
A line in the Dutch electronics company's third-quarter results said the Committee on Foreign Investment in the United States (CFIUS) had "expressed certain unforeseen concerns" that made the sale uncertain.
Lumileds makes car components and LEDs and owns many LED patents.
An 80.1% stake in it is being sold to a consortium of mostly Chinese investors.
The consortium is called Go Scales. Investors in it include GSR Capital, Nanchang Industrial Group and Asia Pacific Resource Development, all of which are based in China.
Philips announced the sale in March as part of its plans to concentrate on its consumer goods and medical technology businesses.
Philips said it would "continue to engage with CFIUS and will take all reasonable steps to address its concerns", but did not give any more details about the concerns.
The third-quarter results were better than had been expected, with net income of €324m ($357m; £233m), compared with a loss of €103m in the same period last year.
Sales came in at €5.8bn, up 2% from the same period last year.
"Our operational performance continues to strengthen, despite deteriorating macro-economic conditions in a number of markets, most notably China, said Philips chief executive Frans van Houten.