Turkish lira and stock market jump after election result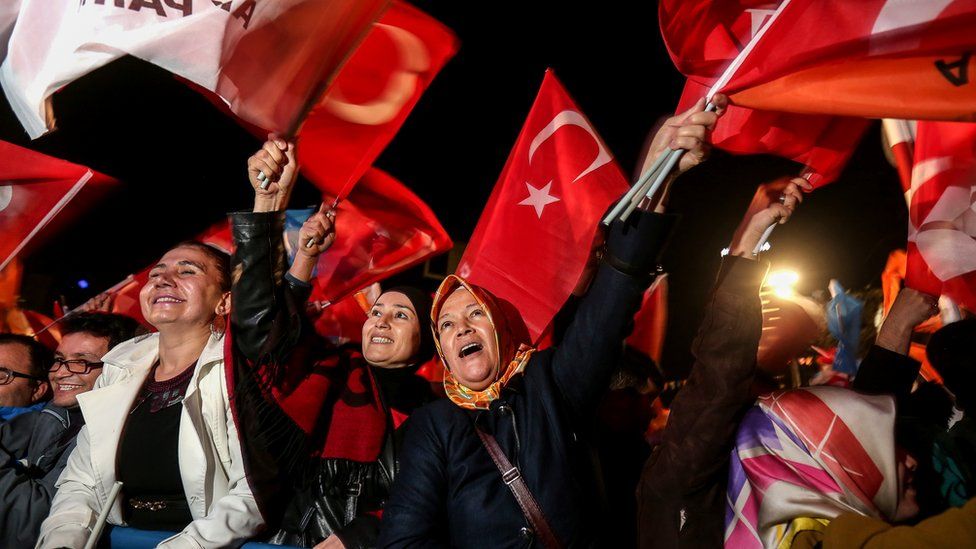 The Turkish lira and the Istanbul stock market rose sharply on Monday after the surprise win by the ruling Justice and Development Party (AKP) on Sunday.
The lira was up almost 4% against the US dollar to 2.8 in afternoon trading after falling by 25% this year.
The main share index in Istanbul was 5.5% higher in late trading.
A coalition government had been expected, so the prospect of a potentially more stable administration has boosted confidence.
Turkey's political problems and signs of weakening economy had undermined the Turkish lira this year.
Polls had indicated the AKP would receive between 40% and 43% of the vote, in line with how it fared in June, when the party lost its majority after 13 years.
Attempts to form a coalition government after the June election failed.
Sunday's victory will allow the AKP to form a government on its own and will boost President Recep Tayyip Erdogan.
William Jackson, senior emerging markets economist at Capital Economics, said: "This has alleviated concerns about further political uncertainty, but it remains to be seen whether the party will try to regain its economic policymaking credibility that had slowly eroded over the past few years.
"The key for investors to look for is any sign that the AK party will try to regain its economic policymaking credibility."
FXstreet analyst Valeria Bednarik said: "This election will end Turkey's period of transition and should lead to a marked strengthening of the country's economy."
Economists want to know if the government has any fresh plans to boost the flagging economy.
Turkey's economy is expected to expand about 3% this year, below the government's official target of 4%.
Inflation, which hit 7% in August, is a growing concern for policymakers.
The BBC's Mark Lowen reported from Ankara that AKP supporters believe their party has brought Turkey "immense economic empowerment and has given the conservative religious side of this country a voice".
While the AKP won a majority, it fell short of the amount of seats needed to call a referendum on changing the constitution and increasing the powers of the president.
Mr Erdogan has cracked down on opposition media groups. Shares in Dogan Holding, which owns newspapers, radio and television stations and is the subject of an investigation by prosecutors, fell almost 15% on Monday.
Shares in mining company Koza Ipek and its sister company Koza Metal also fell 10% and 12% respectively.
The owner of both companies is close to US-based Islamic cleric Fethullah Gulen, a former ally turned enemy of the president. The firms have been under investigation regarding links to terrorism.