Call to link City bonuses to gender balance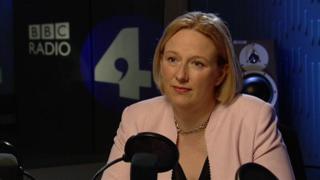 Bonuses for City executives should be linked to progress on appointing women to senior roles, a government-commissioned review is recommending.
It is being led by Jayne-Anne Gadhia, chief executive of Virgin Money.
She wants financial firms to report and act on creating gender diversity.
"My report proposes addressing the issue in a way that the City will recognise. Make it public, measure it and report on it. What gets published gets done."
Ms Gadhia said each company should appoint an executive to take responsibility for gender, diversity and inclusion.
The review was announced by Chancellor George Osborne in July as part of the government's productivity plan aimed at boosting UK output.
The final report will be published ahead of the Budget next March.
Ms Gadhia said 60% of the financial services workforce are women, but less than 20% of them reach executive positions.
She believes businesses will increase productivity and improve results by encouraging women into senior roles.
"It should be a wake-up call to everyone in financial services that fewer women progress to senior levels than in any other industry in the UK," said Ms Gadhia.
'Hidden too long'
"There are many views as to why that might be. Motherhood, remuneration, the 'old boys' network' are all mentioned, but only scratch the surface of an issue that has been hidden for too long."
The preliminary findings will be unveiled at a summit hosted by Harriett Baldwin, the economic secretary to the Treasury on Wednesday.
Last week, a report from Lord Davies said there were no FTSE 100 companies with men-only boards, but he favoured a voluntary approach to getting more women into senior positions.
He suggested a voluntary target of 33% of women board members at FTSE 350 firms by 2020.