HMRC reveals tax office shake-up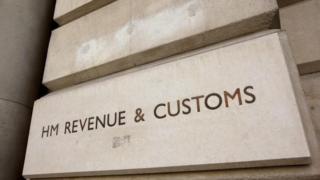 The UK's tax authority is to close 137 local offices and replace them with 13 regional centres, raising fears over job losses.
The closures will be complete by 2027, according to HM Revenue and Customs (HMRC), but the new centres will be open in the next five years.
Towns and cities hosting the new offices include Cardiff, Glasgow, Edinburgh, Bristol and Croydon.
The plan comes as HMRC faces criticism of its call centres.
Its record of answering calls was accused of being "staggeringly bad" at the Commons Treasury committee earlier in the week. Only half of calls were answered successfully between April and June, although performance has improved since.
More on HMRC plans:
List of HMRC offices to close, and when
Evening work plan to tackle HMRC woes
---
Regional plan
Much of the criticism of HMRC's performance has been based on its ability to answer complex tax inquiries.
The authority is planning to improve the skills of staff while moving them to regional centres. Staff numbers in HMRC's 170 offices range from 6,000 to fewer than 10. Overall, there is the equivalent of 58,000 full-time staff working for HMRC.
The new centres will be in:
North East of England - Newcastle
North West of England - Manchester and Liverpool
Yorkshire and the Humber - Leeds
East Midlands - Nottingham
West Midlands - Birmingham
Wales - Cardiff
Northern Ireland - Belfast
Scotland - Glasgow and Edinburgh
South West of England - Bristol
London, South East and East of England - Stratford and Croydon
Four specialist offices will also operate at Telford, Worthing, Dover and at the Scottish Crime Campus in Gartcosh. There will also be some centres that remain open as transitional centres for up to 12 years.
"HMRC has too many expensive, isolated and outdated offices. This makes it difficult for us to collaborate, modernise our ways of working, and make the changes we need to transform our service to customers and clamp down further on the minority who try to cheat the system," said Lin Homer, HMRC's chief executive.
"The new regional centres will bring our staff together in more modern and cost-effective buildings in areas with lower rents."
The plan will save £100m by 2025, HMRC said.
'Significant threat'
All 281 drop-in centres for face-to-face advice have already been closed, but staff will be given at least a year's notice of the latest round of office closures.
HMRC said the majority of its staff would be working in regional centres in 10 years' time.
The PCS union said that 11,000 full-time equivalent staff posts had been cut from HMRC since 2010 and any further cuts would be "absolutely devastating".
"Closing this many offices would pose a significant threat to the operation of HMRC, its service to the public and the working lives of staff, and the need for parliamentary scrutiny of the plans is undeniable and urgent," said PCS general secretary Mark Serwotka.
HMRC said it would have fewer staff in the future but the phased approach to the move would "minimise redundancies".
'Distraction'
Plaid Cymru leader Leanne Wood said the plans were "really bad news" in Wales. There are also significant changes in Scotland.
Frank Haskew, of the Institute of Chartered Accountants in England and Wales, said there was likely to be more short-term pain for taxpayers trying to access HMRC services, but the long-term ambition was correct.
"We shouldn't underestimate the disruption that this restructuring will have on HMRC and the distraction it will cause to its leadership as they seek to implement it," he said.
"Given the challenge of improving service standards and closing the tax gap, we are concerned that this is the wrong time to be reorganising, closing offices and cutting staff."
Chas Roy-Chowdhury, head of taxation at the ACCA accountancy body, said he was keen for no reduction in the headcount at HMRC, but any improvement in skills to deal with more complex tax inquiries would be welcome.
The restructuring has been welcomed by business bosses.
"We should welcome the fact that our tax collectors have recognised how to get more bang for their buck by embracing the technology available to them," said Stephen Herring, head of taxation at the Institute of Directors.
"HMRC is not immune from the need to reduce government spending. It is encouraging to see a focus on adopting new techniques so they can raise revenues without, we hope, hitting service levels."
---
Do you work at HMRC? Are you affected by the issues raised in this story? You can share your comments by emailing haveyoursay@bbc.co.uk.
Please include a contact number if you are willing to speak to a BBC journalist. You can also contact us in the following ways: