Asian markets wary of fresh terror attacks in Europe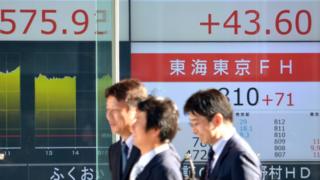 Investors in Asia were cautious on Wednesday amid fears of fresh terror attacks in Europe.
Late in the region's trading day, armed police raided a flat in the north Paris suburb of Saint Denis in an operation linked to Friday's attacks.
Stock markets in China closed down, although earlier Japan's stock market had ended higher.
The cancellation of a football game in Germany following a bomb threat had affected US and Asian shares.
Confidence was also affected by the news that two Air France planes heading to Paris from the US had been diverted because of security threats.
In Japan, the benchmark Nikkei 225 index closed up 0.1% at 19,649.18 points.
Japanese investors were expected to be cautious ahead of the outcome of the Bank of Japan's two-day policy meeting, which started on Wednesday.
Data released on Monday showed the Japanese economy fell into another recession in the third quarter.
Economists are expecting more stimulus measures from Japan's government and central bank to try to boost growth, but most do not expect new measures to be announced this week.
Meanwhile, Toshiba shares fell 0.7% after local media reported that the Japanese securities watchdog is likely to recommend a $60m (£39m) fine for the electronics maker for inflating its profits over the past seven years.
House prices rise
Shares in China ended lower, with the Shanghai Composite closing down 1% at 3,568.47, while Hong Kong's Hang Seng index closed 0.34% lower at 22,188.26.
Government data that indicated home prices in China had stabilised in September after more than a year of declines had little impact on the markets.
New home prices rose 0.1% in October from a year ago, after a 0.9% drop in September.
In Australia, the S&P/ASX 200 index closed up 0.3% at 5,133.1 despite data showing that wage growth remained at its slowest pace in at least 16 years in the third quarter.
Annual wage growth held at 2.3%, matching the lowest reading since the Australian Bureau of Statistics started compiling the data in 1998.
Lower commodity prices also hit the stocks of mining giant BHP Billiton, with its shares down nearly 3%.
South Korea's benchmark Kospi index finished flat at 1,962.88.