China's Postal Savings Bank raises $7bn ahead of IPO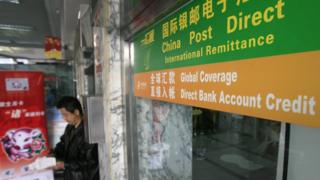 Postal Savings Bank of China has raised $7bn (£4.6bn) from 10 domestic and foreign investors ahead of an initial public offering (IPO) next year.
The state-owned bank has sold a 17% stake to investors including UBS, JPMorgan and Canada Pension Plan Investment Board.
The deal values China's sixth-largest bank by assets at $41bn.
The bank said the stake sale was the biggest private fundraising by a Chinese financial institution.
Its Chinese investors include Alibaba's Ant Financial unit, Tencent and China Life Insurance.
The banking giant has more than 40,000 branches in China and almost half a billion customers. It is a subsidiary of the China Post Group, which is owned by the country's ministry of finance.
Its public listing in Hong Kong next year could raise up to $15bn, according to analysts, but the bank has not revealed a timeline or the size of its IPO.
The share offering would make the Chinese bank the second postal bank to go public in Asia after Japan Post's record IPO in November.
Analysts said the move would help the Chinese bank raise funds at a time when the economy is slowing and bad loans are rising.