Chinese shares rise in volatile trade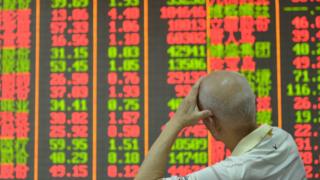 Chinese shares have risen on the first day of trade since the lifting of a "circuit breaker" mechanism, which had been introduced to prevent sharp falls.
The Shanghai Composite opened more than 2% higher, then quickly turned negative, before rallying again to close 2% higher at 3,186.41.
Regulators stepped in after big losses in the mainland markets had led trade to be suspended twice this week.
The falls in China have affected markets around the world.
On Thursday, markets in Europe and the US recorded steep losses after trading in China's stock markets closed within the first 30 minutes, making it China's shortest trading day on record.
Regulators step in
After a volatile trading session, China's stock markets closed higher as investor confidence grew on the new measures introduced by authorities.
Regulators suspended the "circuit breaker" rule late on Thursday. Analysts said it was creating more panic selling instead of calming sentiment.
The central bank also firmed up the value of China's currency, the yuan, to calm markets. The share sell-off this week came amid fears that the weakening of the yuan meant China's economy was slowing more than expected.
"[The fall in markets] looks to have been exaggerated and driven more by fears and regulatory issues around the share market and currency rather than a renewed deterioration in economic indicators," said Shane Oliver, investment strategist at AMP Capital.
The People's Bank of China (PBOC) set the daily yuan rate at 6.5646 per dollar - firmer than the previous day's rate, ending eight days of weakening the currency.
Investors have been worried that China's moves to weaken the yuan will spark a currency war in the region as other countries tried to remain competitive.
What are China's 'circuit-breakers'?
The measures were announced in December after a summer of dramatic market losses - used for the first time time on Monday and again on Thursday.
They automatically stop trading in stock markets that drop or appreciate too sharply - a 15-minute break if the CSI 300 Index moves 5% from the market's previous close, or a whole-day halt if it moves 7% or more.
Instead of calming investors, they fuelled selling pressure and were then suspended by authorities
Hong Kong's Hang Seng index finished 0.6% up at 20,453.71, while South Korea's Kospi reversed earlier losses to close 0.7% higher at 1,917.62.
Shares in Samsung Electronics rose 0.7% despite the tech giant's profit guidance for the fourth quarter missing market expectations.
In Japan, the Nikkei 225 index ended down 0.4% at 17,697.96, while in Australia the S&P/ASX 200 index finished the day 0.4% lower at 4,990.84.