Netflix shares jump as customers numbers surge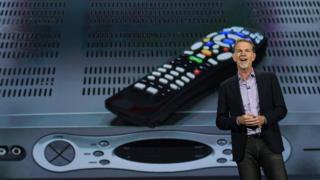 Video-streaming company Netflix said its customer numbers surged more than expected last quarter, sending its US-listed shares up as much as 8% in after hours trading.
The firm said it added a record 5.59 million customers in the three months to December, bringing total member numbers to 74.76 million.
However, it said it missed its forecast for US subscriber growth.
Earlier this month, the firm said it had expanded to 130 more countries.
Netflix said it was upbeat about the number of subscribers it expected to grow in the current quarter - forecasting growth of 6.10 million, up from 4.88 million the year earlier.
Challenges ahead
Netflix said its global expansion plans would start by "primarily targeting outward‐looking, affluent consumers with international credit cards and smartphones."
However, the streaming service, which gained global recognition for its programmes like House of Cards and Fargo, said it was still trying to expand into China.
Furthermore, not all countries have access to the same content, with some countries being offered just 10% of the content available to users in the US.
The firm said it had a long way to go before it could offer viewers the same films and shows everywhere.
Despite its growing subscriber numbers, Netflix's profits fell in the three months to December from a year earlier, although it said its earnings numbers were still positive.
"On earnings, we stayed profitable in Q4 despite, foreign exchange headwinds, and delivered operating income of $60m ($42.34m) and net income of $43m," the company said in a statement.
The company's shares have surged 124% in the last 12 months.