Asian stock markets suffer further losses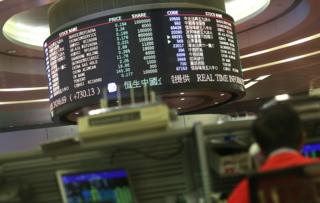 Stock markets in Asia have suffered further losses, a day after global turmoil saw billions of dollars wiped off the value of shares.
Investors remain worried over slumping oil prices and slowing growth in China.
Asian markets failed to hold onto the slight gains they made in early trading, and Japan's Nikkei index closed more than 2% lower.
Thursday's retreat added to the losses financial markets have seen since the start of the year.
On Wednesday, stocks had fallen sharply, and UK, French and Japanese markets have now fallen more than 20% from their 2015 highs.
Wall Street was not immune either. The Dow Jones closed 1.6% lower after a volatile trading day had seen stocks as much as 3% down.
"Overnight markets in the Europe and US had a terrible day, where sentiments around a 'drunk' Asia spilled over," market strategist Bernard Aw of IG explained in a note.
'Dead cat bounce'
Mainland China's benchmark Shanghai Composite closed 3.2% lower at 2,880.48 points, as concerns over the health of the world's second largest economy continued.
On Tuesday, Beijing had released annual growth figures for 2015 showing the country's lowest growth in 25 years.
With China's past growth having been the engine of the global economy, the protracted slowdown is likely to affect markets around the world.
Hong Kong's Hang Seng index also continued the downward trend, shedding 1.8% to close at 18,542.15 points after already losing losing almost 4% on Wednesday.
Morning trade had started with some gains but traders soon lost faith in the temporary rally, proving it to be "a so-called dead cat bounce, a term coined in the 1980s to describe a brief recovery in an otherwise declining market," the BBC's Juliana Liu in Hong Kong said.
Japan's Nikkei closed 2.4% down while South Korea's Kospi finished 0.3% lower.
In Japan, shares in electronics firm Sharp jumped as much as 19% after media reports that Taiwan's Foxconn has offered 625 bn yen ($5.3 bn) to take over the struggling company.
Australia was the only major market to beat expectations with the ASX/200 closing 0.5% higher.
The rise came despite the country being particularly dependent on China's economic performance as most of the commodities driving the economy down under are exported to China.
Commodity slump
"Markets are just very uncertain about the slowdown in the Chinese economy," Stephen Koukoulas, chief strategist TD Securities, told the BBC.
"We saw the official numbers, but frankly not many people put a lot of weight on the reliability of them and instead look at commodity prices as a barometer for how the Chinese economy is going."
Oil prices have fallen below $28 a barrel, while coal, iron ore and other metals are all also in a drawn-out slump.
Many analysts have slashed their 2016 oil price forecasts, with Morgan Stanley analysts saying that "oil in the $20s is possible", if China devalues its currency further.
Economists at the Royal Bank of Scotland say that oil could fall to $16, while Standard Chartered predicts that prices could hit just $10 a barrel.
"So, investors are particularly nervous about the loss of momentum in China," Mr Koukoulas said. "The question is: Is it just an adjustment to some of the previous excesses or is this the start of something a little more nasty that will drag the economy to a much weaker growth path?"
Analysis: Andrew Walker, economics correspondent:
Some observers think that many markets were riding for a fall. Asset prices were pumped up by ultra-low interest rates in the developed world and also by the central banks that have engaged in quantitative easing, buying financial assets with newly created money.
That happened with shares, with bonds and with commodities. For commodities the boom is well and truly over, partly due to the slowdown in China and in the case of oil mainly due to plentiful supplies.
Clearly there are some troublesome developments and the IMF has a warning: "If these key challenges are not successfully managed, global growth could be derailed."
That at bottom is what the markets are worried about.
Just how low can oil prices go?
China economic slowdown: Can it avoid a crash?
What markets are really worried about
---