Wedding venues warned to treat customers fairly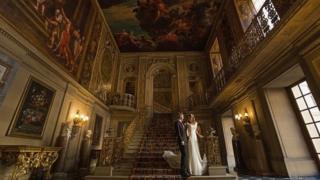 Wedding venues that demand large deposits or refuse to pay refunds when plans change have been warned to treat customers fairly.
Warning letters have been sent by the Competition and Markets Authority to venue owners reminding them of their legal obligations.
The CMA said that excessive cancellation charges, even when contracts had been signed, were not legally binding.
The average wedding cost is £20,500.
The authority, which ensures businesses treat customers fairly, has written to more than 100 wedding and event venues reminding them of consumer protection laws.
Asking for large deposits, and imposing unfair cancellation fees, was not legal nor appropriate, the CMA warned.
The cost of hiring venues can often run into thousands of pounds and many insist on a deposit and advance payments. However, if plans need to be altered the cancellation charges can be excessive and deposits are sometimes not returned, the CMA said.
CMA's senior consumer director, Nisha Arora, said consumers were particularly vulnerable when planning a stressful event such as a wedding.
Enforcement risk
"Businesses need to treat their customers fairly and should not require unjustifiable, non-refundable deposits or impose unreasonable cancellation charges which could mean customers lose a significant amount of money if they change their mind about the venue or have to call off the event," he said.
Businesses that use unfair terms risk enforcement action, Mr Arora added.
The CMA's letters remind businesses that even if contracts have been signed the terms may still be illegal.
It has asked venues to ensure that deposits were a small percentage of the total price, and that any advance payments were fair and gave customers a reasonable amount of time to pay.
Consumers should not lose large advance payments if their plans change and they give enough notice, the CMA said. Businesses should instead set sliding scales of cancellation charges that were transparent and reflected the true cost.