Mike Ashley: Who is the founder of Sports Direct?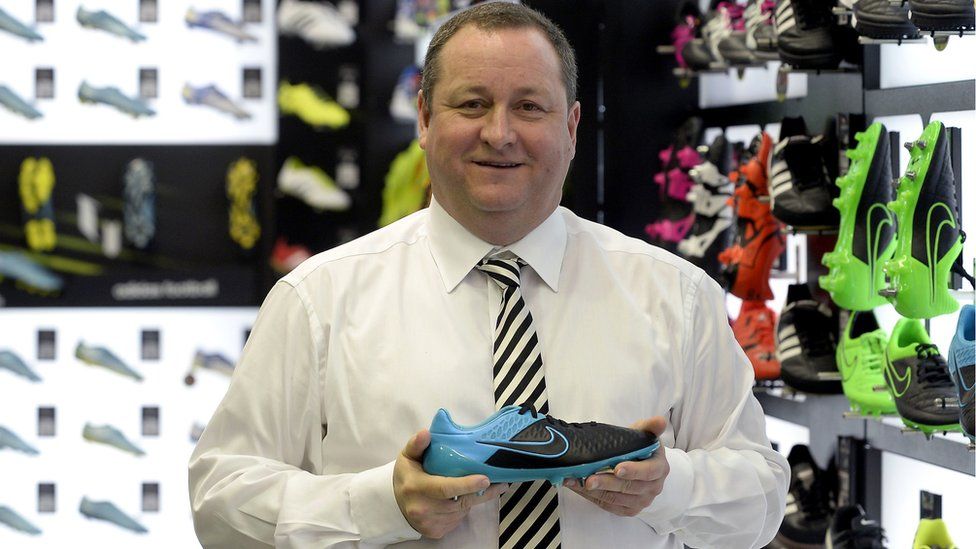 Billionaire Mike Ashley, the founder of Sports Direct, is to step down as director of his expansive retail group, Frasers.
Mr Ashley, known as one of the most intriguing characters in British business, handed over the role of chief executive to his son in-law Michael Murray just months ago, after he impressed with the expansion of upmarket chain Flannels.
Mr Ashley, who founded Sports Direct in 1982, is by no means out of the picture though. He is still the group's controlling shareholder with a stake of nearly 70% and has agreed to lend the business £100m.
Starting out as a single sportswear shop, his retail empire now includes the likes of House of Fraser, Game, Jack Wills, and Evans Cycles.
The move does, however, mark a significant change of the guard and one which may bring major change to the business, of which Mr Ashley built the foundations for 40 years ago.
Born in Walsall, in the West Midlands, his family moved to Berkshire where his father, a warehouse manager, loaned his 17-year-old son the money to buy his first sportswear shop.
After establishing Sports Direct in 1982, he built his business by buying up well-known names such as Dunlop, Slazenger, outdoor gear specialist Karrimor, hat-maker Kangol and the boxing brand Lonsdale. It is now the UK's largest sportswear retailer, with more than 400 stores including the famous Lillywhites shop in London's Piccadilly.
Worth an estimated £4bn, he reportedly commutes by helicopter from his north London home, complete with tennis court and swimming pool.
He divorced his wife Linda in 2003, paying out a £50m settlement, and has not remarried. Marriage, he once joked, was one of the few things he couldn't afford. Together the couple have three children.
Observers have struggled to make sense of his retail game plan - not made easier by his less-than-warm relationship with the investment establishment.
His dealings with the City started badly. In 2007 he raised £929m when he sold a 45% stake in Sports Direct but in the following months the shares lost half their value, with many investors unhappy at the way the company was run.
Nowadays, his sprawling empire includes several sportswear brands, as well as lingerie firm Agent Provocateur, luxury fashion chain Flannels - and major shareholdings in Debenhams and French Connection.
With many bricks-and-mortar stores struggling due to a combination of rising rents and increasing online competition, Mr Ashley has also turned his attention to saving the country's high streets.
"These achievements have been widely recognised, and it has been acknowledged by a number of independent indexes that the reputation of Sports Direct has been significantly improved."
His business habits have been the subject of a 2017 High Court battle over an alleged deal made after a boozy night at a pub near Sports Direct's Oxford Street store. Investment banker Jeffrey Blue claimed that Mr Ashley had agreed to pay him £15m if the firm's share price doubled to £8.
However, the court hearing also provided other insights into how he does business. Mr Blue claimed that Mr Ashley had convened "senior management meetings" in a pub near Sports Direct's Derbyshire warehouse, and had once allegedly drunk 12 pints and vomited into the fireplace.
But Mr Ashley claimed that this was not a pub they usually attended and denied they were management meetings, with agendas and minutes. "It is very boring and lonely in Shirebrook," Mr Ashley said. "You know what we do after work? We go to the pub after work."
Then there is that expensive game of spoof. Mr Ashley said he once played the game of chance with an investment banker to settle a £750,000 dispute over legal fees connected with Sports Direct's flotation.
"I had the opportunity to save Sports Direct £750,000!" he said. "I either had to pay or I could spoof for it."
He lost and had to pay up, but remained unbowed. "Yes the City may laugh at me for the next 15 years, but yes - I would do it again in the morning!" he said.
He is also a man who is not good with mobile phones. "I periodically lose my phone, destroy my phone, damage my phone... Whatever happens to phones happens to my phone," he has said. And whenever one phone is out of action, he asks Sports Direct to give him another one. At one time he had a box of 50 of them in his office.
Mr Ashley's former ownership of Newcastle United was also not without drama.
Mike Ashley purchased the club in 2007 for £134m, and they were relegated in 2009 and 2016.
It was never entirely clear why Mr Ashley bought the club, as he had no previous connection with the team or the area. But in the early days, he would sit and cheer among the ordinary travelling Newcastle fans in his black-and-white shirt.
He first put the club up for sale in September 2008 amid a series of protests from fans following the resignation of popular manager Kevin Keegan.
Newcastle were relegated from the Premier League that season and again in 2015-16, although returned to the top flight at the first opportunity both times by winning the Championship.
Mike Ashley told the News of the World previously that he bought the club "to have fun", attracted by the gung-ho, take-no-prisoners attacking style that the team adopted under Kevin Keegan in the mid-1990s.
Perhaps it's not a bad analogy for the way Mr Ashley runs his business.