Mixed Monday for Asian markets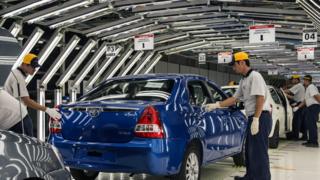 Japanese markets had a rollercoaster start to the week, as a rally before midday fizzled out at the close of the trading day.
The benchmark Nikkei 225 ended the Monday session down 0.25% or 40.89 points at 16,123.
A strong Japanese yen dented stocks of exporting companies, hitting carmakers hard.
Shares in Toyota, Nissan and Honda all closed lower.
But shares of electronics maker Sharp jumped more than 5% after a takeover deal with Taiwan's Foxconn was finalised at the weekend.
In South Korea, the main index, the Kospi, managed a slight gain of 0.27% or 5.4 points to close in the plus at 1,978.97.
It was also an up-and-down day for stocks in Australia.
The benchmark S&P/ASX 200 ended the day in negative territory, down by 0.08%, closing the Monday session at 4,995.
Spotlight on rates
The Reserve Bank of Australia, the country's central bank, will hold its monthly meeting on interest rates on Tuesday.
The majority of economists polled by Reuters are expecting the central bank to keep its key lending rate on hold at its current record low of 2%.
The central bank in India will also hold its monthly meeting on interest rates on Tuesday. Low inflation in India could be a factor in the Reserve Bank of India's future policy on rates.
Markets in China were shut on Monday for a national holiday - Tomb Sweeping Day. Trade will resume on Tuesday.