Steel crisis: UK willing to take 25% stake in rescue deal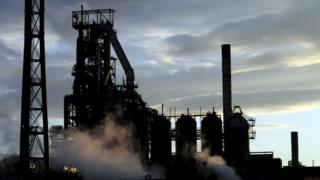 The government is willing to take a 25% stake in any rescue of Tata Steel's UK operations, it has been announced.
The business department said it was preparing to make a support package "worth hundreds of millions of pounds" available to potential buyers.
Business Secretary Sajid Javid said the money would be offered on commercial terms, but the government would not take any control over the business.
At least two potential buyers have shown interest in buying the business.
One option is a management buyout backed by the chief of Tata's Port Talbot factory, the UK's largest steel operation.
Steel company Liberty House, owned by Sanjeev Gupta, has also said it was interested in buying parts of the business.
Details emerge of Tata bid consortium
Port Talbot steel boss in Tata UK bid
Britain's steel industry: What's going wrong?
Can UK steel be helped under EU rules?
In addition to taking a minority stake, the UK and Welsh government said they are also willing to consider additional grant funding support, for example to support the development of power plant infrastructure, energy efficiency and environmental protection measures, R&D and training.
The government also said it was working with the pension scheme trustees of Tata Steel and British Steel to minimise any pension impact on the purchaser.
Mr Javid said last week that the government was prepared to support a credible buyer with a finance package, including loans, to help an industry that has been hit by falling prices, high energy costs and cheap Chinese imports.
Thursday's announcement followed another visit to Mumbai by Mr Javid to meet Tata's chairman Cyrus Mistry, where the minister said progress on the sales process had been made.
'Not part-nationalisation'
Tata has said that it would give the government and potential buyers time to arrange a rescue package, but that it did not want to prolong the uncertainty for customers and workers.
The Prime Minister's official spokeswoman told a media briefing that the support was being offered "in order to keep the operation safe".
"We would work alongside a potential buyer to make sure that the government is doing what it could to support a viable sale," she said.
"If we were to take an extra stake it would be a minority one with the aim of supporting the purchaser in delivering a long-term future for the business, we are certainly not seeking to be controlling the company."
Asked if it was part-nationalisation, she replied: "I am not sure we would accept the concept of part-nationalisation. We will be investing on a commercial basis. We would not see this as nationalisation. We would not be seeking to acquire a control in the business. We don't think that nationalisation is the right answer."
The steel industry welcomed the financial support package as "a positive first step".
Gareth Stace, director of UK Steel, said: "We have been calling for government to step up to the mark and provide this type of financial commitment and backing.
"We are not yet out of the woods however. Further action is still needed on energy costs and business rates whilst at EU level, we still need to see tougher action on the dumping of cheap imports. This will then provide the level playing field which will give UK companies a fighting chance to compete."
On Tuesday, it emerged that Stuart Wilkie, managing director of Tata's Strip Products at Port Talbot, had canvassed workers about joining a bid by investing up to £10,000 of their own money.
Tata Steel employs more than 10,000 people in the UK, and supports thousands of others, across plants in Port Talbot, Rotherham, Corby, Shotton and Teesside. The UK operations are losing about £1m a day.
Tata's Scunthorpe operation, which employs more than 3,000, has been sold to investment firm Greybull Capital for a nominal £1.
On Monday Mr Javid joined ministers and trade officials from 30 countries at a meeting in Brussels to discuss the global glut of steel.
Although that meeting broke up without agreement, Mr Javid said that China had vowed to address "a problem of overcapacity in their country".